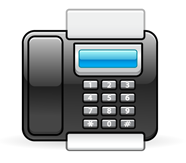 The technological footprint of a small plumbing contracting firm like Central Plumbing and Heating are typically not very exhaustive. Felix and Michael will be purchasing computer hardware to be able to run the standard windows operating system. There are no plans to install a server for the business. Each computer workstation will also be connected to dual monitors that will add substantial productivity.
Other office hardware will be a network printer that will be configured to run using the office router proving laptops with the ability to print wirelessly. Both Felix and Michael will also be carrying a laptop and a portable printer with them on each job. This will allow them to print out invoices, and also accept credit cards while at the clients location. Besides this the office will also be equipped with an integrated fax / digital copy machine and a phone system.
In terms of software the firm will have:
Microsoft Office which will include Outlook, Excel, PowerPoint, Word and other productivity related software.
ACT for workgroups will serve as the customer relationship management software - here both Felix and Michael will be updating all customer relationship related information.
Frank and Peter will also be using Service Fusion service management software to assist them with customer relationship management, invoicing, scheduling & team management.
Some of the benefits of using Service Fusion are:
Customer Management: The software will allow for creation of multiple customer contacts, phone numbers & email addresses. Setting up multiple service locations & credit cards on file and store equipment information, documents, images & view history at a glance
Estimates and Jobs: The software will allows Felix and Michael to email estimates & job confirmations to customers using pre-set email templates, track referral sources and and assign jobs to sales reps for commission calculation. Finally also assign estimates & jobs to projects, track labor & drive time.
Dispatching and Scheduling: The software will provide a visual scheduler with drag & drop capability for scheduling & assignment. Allows Felix and Michael to view jobs and estimates on a map before assigning them to workers.
Invoicing and Payments: Felix and Michael will be able to create invoices for a single job or multiple jobs on the same invoice; Accept credit card payments using a built-in, free payment gateway. Finally Central Plumbing and Heating will also be able to receive credit card, check, cash or any other form of payment against invoices and jobs.
Quickbooks Integration: The software will allow for the bi-directional sync of customers, products & services. The Automatic synchronization of job deposits, invoices and payments.
Inventory Management: The software will support serialization of inventory and the ability to receive items into multiple warehouses on the same inventory order.
Time Tracking and Payroll reports: The software will provide simple clock in/clock out features inside the administration system and mobile app. It will also allow for payroll calculation based on hourly pay settings - very important when Felix and Michael decide to hire sub-contractors for larger jobs. The software will also calculate regular and overtime pay on a daily or weekly basis.
Quick Links:
Go to the Corresponding Questionnaire section for this industry.