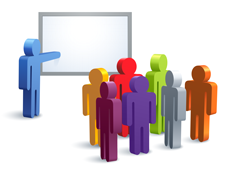 Market conditions and sales projections for the third year Central Plumbing and Heating is in business:
When projecting sales for the third year of business for Central Plumbing and Heating, we decided to make sure that we take in three distinct market conditions for our business. The first is a slow market condition that is typically characterized by a sluggish economy. Second is a good market conditions that reflects a typical average market for the plumbing contractor business and finally is the great market conditions that is reflective of a booming economy where business is coming in from everywhere and business owners like Felix and Michael and just trying to keep up with all the work that is pouring in.
Sales seasonality - how much will sales fluctuate during the year for Central Plumbing & Heating?
Central Plumbing and Heating is located in Mecklenburg County, North Carolina. As most folks know, the plumbing business in the North East is characterized by a very tough winters when pipes, water heaters and boilers start giving folks a lot of trouble. Given this nuance in mind, we are anticipating that there will be a seasonal aspect to the earnings of the firm. It is anticipated that the first quarter of the year will typically bring in approximately 40% of the total annual revenues. We anticipate the summer months of July through September to be the slowest given that a lot of folks take vacations and many folks want to put off expenses until later. Thus the 2nd quarter is only expected to bring in around 15% of the total revenues.
Sales projections for the third year for Central Plumbing and Heating:
Thus the firm is projecting that for the third year in a good market condition we will probably be able to get to $375,000 in sales with approximately 914 customer transactions each generating about $410 in revenues. In the event the market for plumbing contracting services were to slow down, we are projecting that we will be able to process 686 sales transactions for the third year that will bring in a total of $281,250. Also in the event we have a boom in the local and larger economy and we wind up with a great market condition, we project that Central Plumbing and Heating will be able to take in approximately $450,000 having served its customers with 1,097 transactions during our third year of operations.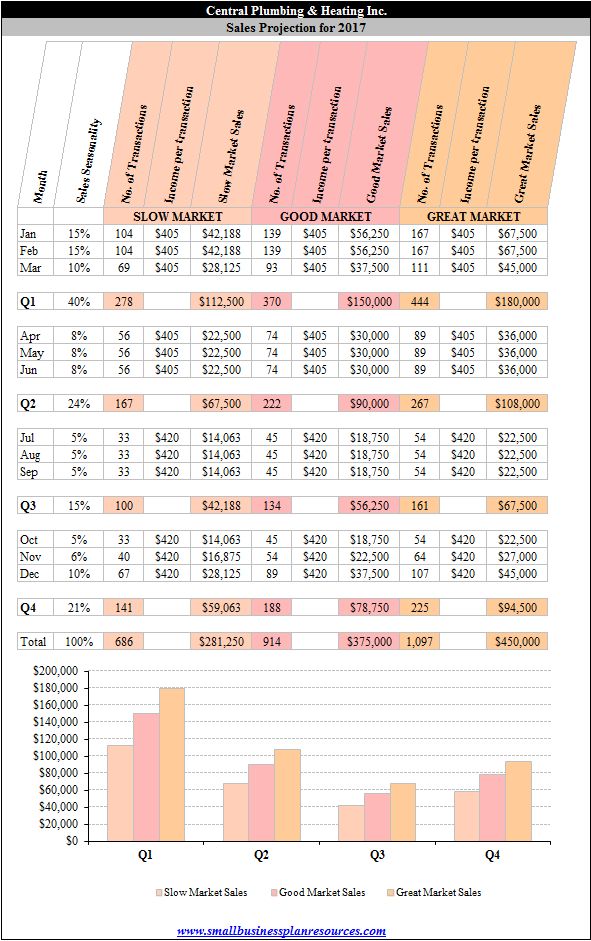 Factoring in boiler maintenance contracts into the mix:
When making these projections, Felix and Michael have divided up all potential revenues from annual boiler and water heater maintenance contracts. Clearly more work will be done during the winter months on a maintenance contract for boilers and therefore revenues be generated accordingly. These sales projections should be used carefully when planning out cash flows projections since there can be many months when business is rather slow and very little cash is coming in.
Revenues from commercial and remodeling projects:
Felix and Michael have included revenues from commerical and remodeling projects in the total sales projections. While typically each job pays differently depending on the size of the project, when projecting sales we have added the total revenues anticipated for each quarter and divided that up by the total number of jobs irrespective of where the revenues will be coming from.
Quick Links:
Go to the Corresponding Template section for this industry.
Go to the Corresponding Questionnaire section for this industry.