Obtaining financing for the start up, acquisition or expansion of an existing business is of course one of the most milestones for a business owner to achieve. A sound business plan must account for the sources of capital and must put down some realistic interest rates and monthly payments on these loans since it directly affects the cash flow of the business. Very few business owners and partners have the financial ability to float their own business ventures without having to borrow capital. It is estimated that 95% of all business ventures require some form of financing. Of course the kind of financing they acquire may differ from business to business and also from industry to industry. The major sources of financing are: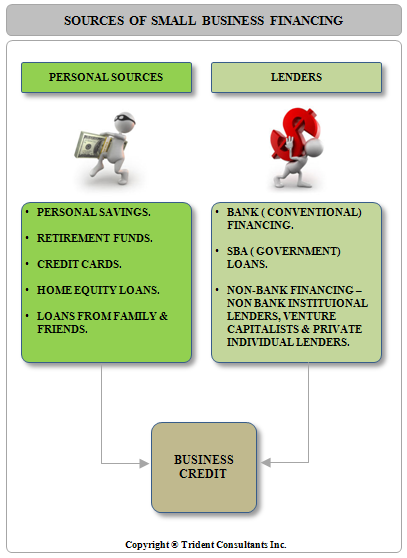 Personal Savings:
Most new businesses are started when business owners or partners dip into their own checking and savings accounts to put together the financing required to start up, purchase or expand their business. Many times business owners and partners will liquidate savings held in stocks and bonds to be able to come up with the required capital.
Retirement Funds:
We have also seen instances where business owners and partners liquidate whole or part of their retirement funds to raise the capital needed – this of course has serious implications since in almost all instances the business owner or partner faces a penalty from the IRS for an non-qualified distribution and also has to pay interest on the loan to himself or herself (please consult a qualified tax advisor or certified public accountant before borrowing from your retirement funds.)
Personal Credit Cards & Loans:
Also fairly common is the practice of borrowing funds from personal credit cards and taking out personal loans to facilitate the raising of funds required. While tapping into your credit cards may be an option it is not advisable to do so for long term financing. The money drawn down on your personal credit cards shows up on your credit bureau and can affects your credit scores since it increases the amount of revolving debt that you have outstanding versus the total available to you.