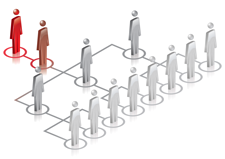 Green Lawn Landscaping has two owners who will also be the managers and primary employees of the firm. Felix Gonzalez and Michael Lombardi. They will be performing all a big chunk of the work on their jobs along with production staff that will be assisting them. All jobs will require either Felix or Michael to be present at the site. One part time office administrative staff member will also be added once operations gets underway.
Felix Gonzalez:
Felix Gonzalez will be 50% owner of Central Plumbing and Heating. Felix has spent his entire career spanning 19 years in the plumbing and heating contracting business. He started working for Countywide Plumbing Contractors at the age of 18. Countywide is an extremely well known large plumbing, heating and HVAC contractor located in Charlotte, North Carolina. Felix started there as an apprentice and spent 5 years learning the trade before getting his journeyman's license at the age of 23. He continued working for Countywide Plumbing until the age of 28 when he decided to go out and start his own small plumbing operation. He got this master plumbers license at the age of 27 and is extremely well versed in new construction projects.
Michael Lombardi:
Mike started working for his brother Kevin Lombardi at the age of 19. Kevin had already established a successful plumbing contracting business and so it was a great opportunity for Michael to begin learning the tricks of the trade. Michael continued working for Kevin until the age of 26. During those 7 years, Michael obtained his journeyman's license as finally his own master plumbers license as well.
Felix and Mike met when they were both working on a new building construction project for Citywide Properties in 2010. This project required them to work closely with each other as Citywide put up 20 single family homes in quick succession. Right from the get go, both Felix and Michael realized that they had a very similar work ethic. After the Citywide project, they also had the opportunity to work together on a government contract when the County of Mecklenburg decided to upgrade the main courthouse.
There were other plumbers that were very keen on being a part of Central Plumbing and Heating, but both Felix and Michael realized that they were only comfortable with each others business ethics and customer focus. As such there is no anticipated plan to change the management structure by taking on additional owners or partners.
Quick Links:
Go to the Corresponding Questionnaire section for this industry.