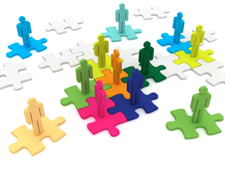 Spotless Homes will be offering residential house cleaning services to folks in the Cobb County target market. They will also be looking to offer cleaning services to small professional offices belonging to CPAs, Attorneys, Doctors, Dentists etc. One of the ways Anthony, Christine and Sofia of Spotless Homes will be looking to grow their business will be through the formation of strategic alliances.
A strategic alliance with another professional of a different field will allow Spotless Homes to be able to receive and give business referrals thereby increasing the opportunity to close more business. Great care will be taken to ensure that professionals with whom strategic alliances are being created, have the same commitment to customer service and excellent quality as do Anthony, Christine and Sofia.
Strategic Alliances with Realtors:
Realtors are always showing homes to assist in the sale or rental of a properties. Typically once a property has been sold or rented, the new owners or tenants need the property to be cleaned out before they move in. Thus realtors become an excellent source fo business leads and the owners of Spotless Homes will be looking to create strategic alliances with as many realtors in the area that they can find.
Strategic Alliances with Property Managers:
Property managers who often can also be realtors, tend to manage multiple family homes and apartment complexes. They are fully aware of when a tenant of owner is moving in or moving out of their apartment, condo or townhome. Invariably, once a tenant has moved out, the dwelling needs to be professionally cleaned before the new tenant can move in and take possession. We think that forming strategic alliances with property managers will pay huge dividends to Spotless Homes.
Quick Links:
Go to the Corresponding Questionnaire section for this industry.