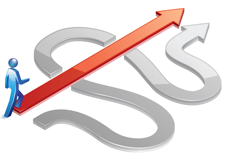 These are the key elements that provide a competitive edge in the plumbing contracting business are:
Excellent knowledge of a target market like Cobb county, Georgia. This includes knowing the economics and demographics of the population, as well as having a good idea of the age of the housing stock, what the competitors are charging and level of competition one has to deal with on jobs.
Careful evaluation of jobs and accurate bids and quotes.
Optimum use of technology to ensure that the business is being productive.
Efficient collections - making sure receivables are being collected in a timely manner with very low bad debts.
Excellent customer service from the beginning of the engagement to the end of the sale.
Anthony, Christine and Sofia have more than 35 years of experience in the house cleaning business. They are well known in the target market and are very familiar with the different rates charged by cleaning services in different localities of the target market. This excellent understanding of pricing will allow Spotless Homes the ability to offer specific specials and cleaning packages to different clientele and give them a big competitive edge over others cleaning services that don't know how differential pricing works.
While Spotless Homes will typically charging by the hour, they may also provide one time specials to certain clients during certain times of the year. For example 3 rooms for $68, or 5 rooms for $99 and so on. Since the most common mistake that cleaning services make is underestimation of work effort and thereby loss of time on cleaning jobs, the owners of Spotless Homes intend to ensure that they are able to make a profit on each and every job and never try and lowball clients to get their foot in the door.
The challenges the most cleaning businesses face have to do with inefficiency and mis-management of time and resources. Using technology and a unique customer profile tracker, Spotless Homes will be looking to clean each room in the most efficient manner possible by obtaining and updating the unique customer preferences associated with each job. The unique customer tracker will be able to tell Anthony, Christine and Sofia precisely what a clients likes to see get done in each room and based on that will also have a clear listing of cleaning tasks that need to be performed in a specific order using the cleaning agents listed for that client.
Spotless Homes will be requesting payment upon completion of services and each of the owners will have their own tablets fully equipped with a payment processing system that will allows them to accept credit cards at the clients location without having to wait to get back to the office and run the card later. The idea here will be to keep the collections down to a minimum. For large jobs, the may also require a down payment of 25% to 40%.
Keeping a strong customer focus and recording every item about the customer relationship into a database of client trackers is how Spotless Homes will ensure that they have a superb competitive edge when it comes to customer service and satisfaction on every job they complete.
Quick Links:
Go to the Corresponding Questionnaire section for this industry.