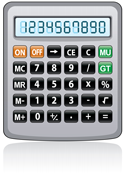 We are estimating that Anthony, Christine and Sofia of Spotless Homes will need $27,100 to get their house cleaning service business up and running. The three owners will be contributing $10,000 of that amount from their personal savings and the remaining they anticipate obtaining in the form of a term loan from a bank.
The following is a breakdown of where the anticipated $27,100 will be spent during the course of getting ready to begin operations:
Estimated Fixed Assets purchases are anticipated to cost $13,500. These will include capital improvements to the office that will leased, furniture, fixtures and all the office equipment needed. Also included in this is the security deposit.
Tools & Equipment will contain items like - Electrolux vacuums & replacement bags, Towels, Cleaning Cloths & Terry Cloths, Microfiber Mop Pads, Compartmental Cleaning
Caddy, Buckets with handles, Pumice Stick, No Scratch scour pads, Heavy Duty scour pads, Toothbrush, All purpose cleaners, Laytex Gloves, Amonia free glass cleaners,
Green certified cleaners and degreasers, Soft scrub with bleach, Lime-a-away, Stainless Steel polish, Steel wool soap pads, Brush on extension poles, Removable Microfiber mops, and Hypoallergenic Laundry Detergents.
Operating Expenses: These will include items like Bank Charges and Fees, Business and Liability Insurance and Vehicle customization expenses. We will have the vehicles driven by each of the owners customized to have a graphical overlay to advertise the business and function like billboards every time the vehicle is driven. This will also help with the establishment of a unique brand, image and identity of the business. We are anticipating that 50% of the total start up costs will consist of operating expenses.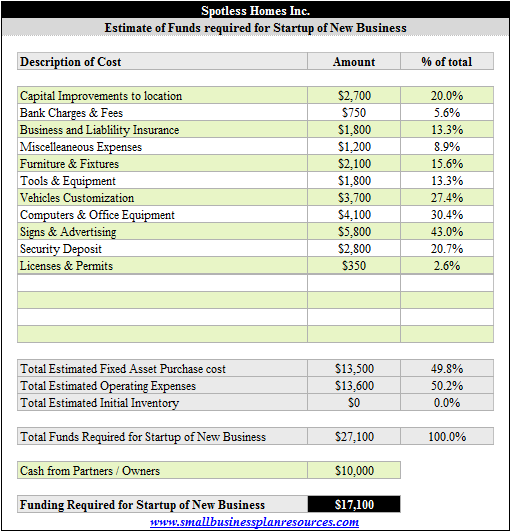 Anthony, Christine and Sofia are well aware that if their start up costs turn out to be more than $27,100 as projected, they will have to come up with the difference from their own savings. They are comfortable with this.
Quick Links:
Go to the Corresponding Template section for this industry.
Go to the Corresponding Questionnaire section for this industry.