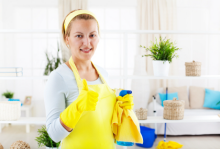 Spotless Homes will be providing full service house cleaning services to folks living in the target market of Cobb County in Georgia. The three owners of the company - Anthony, Christine and Sofia - bring many years of combined experience to the table and believe that their unique commitment to quality and customer satisfaction will enable them to provide their customers with one of the best cleaning experiences ever.
The following is a list of some of the cleaning services that Spotless Homes will provide their clients:
Bathrooms: Toilets, Bathtubs, Bathroom floors, tiled surfaces around the tub, bathroom sink and any floor covering.
Kitchen: Dishes in the sink, running the dishwasher, kitchen sink, oven, trash & recycling.
Stairs and Railings
All bookshelves, Shades, Chandeliers, Mirrors, Glass, Computes, TV Screens in the house
Gym equipment in the house, Pool tables, Arcade games.
All Stainless steel, Granite, Onyx, Brass, Copper and Tin fittings and furnishings.
Floor cleaning that will include Vinyl, Wooden and Marble surfaces.
China Cabinets including precious family heirlooms.
Playrooms, Cribs & Toy Boxes.
Cleaning & Polishing all furniture, change bedding.
Full laundry wash and fold service.
Full kitchen appliance cleaning for Ovens, Microwaves and Range tops.
Patio cleaning including wicker furniture, wrought iron furniture.
Suede Furniture, Leather furniture, Window Screens, Silk plants, Rugs
Dining room table and chairs
Watering indoor plants
Defrosting Refrigerators
Stain removals for Coffee and Wine
Additionally Spotless Homes will also be providing the following specialized services:
Birthday parties and other parties clean ups before and after the events.
Moving packages that will include cleans up before a move in and/or cleaning afte a move out.
Deep cleaning packages for the kitchen.
Seasonal Spring and Fall house cleaning specials
Quick Links:
Go to the Corresponding Questionnaire section for this industry.