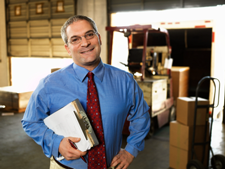 The offices of Spotless Homes Inc will be located at 158 Roswell Street in Marietta, Georgia which is located in Cobb County. This will the one and only office for the company for the foreseeable future. Anthony, Christine and Sofia have each spent more than a decade in the house cleaning business and know only too well that since all the services provided by a cleaning service are provided at the client's location, there is really no need to have a very large office. Additionally since there is no anticipated need to hire production, operations or sales oriented employees, the need for office space is limited to a small footprint.
The office of Spotless Homes will be 400 square feet and will only contain one large room which will house three separate office stations for each of the business owners. There will also be a small store room where the business owners will be able to store supplies of cleaning equipment and their tools for use on their various jobs. The store room will have plenty of shelves to be able to store the supplies in an efficient manner.
Each of the office stations will have its own telephone and computer equipment. There will also be a small coffee counter. Signage on the office outside will match with the logos and branding colors chosen for the firm - this will be replicated on the vehicles, business cards, stationery and all other marketing materials.
The business insurance carried by the firm will cover all the furniture, fixtures, office equipment and cleaning material.
Quick Links:
Go to the Corresponding Questionnaire section for this industry.