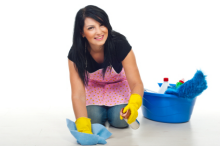 Spotless Homes Inc. is a house cleaning service that will be providing cleaning services to folks with houses, apartments, condo or any townhomes. In addition the firm will also be providing cleaning services to small businesses like professional offices of Doctors, Dentists, Attorneys and CPAs'. The target market for the Spotless Homes will be Cobb County in Georgia.
Since the house cleaning business does not have a tangible product besides the service it provides, there is nothing much to articulate in this section of the business plan. Please refer to the service description section of the plan to get more details on the various services that will be provided by the business.
Quick Links:
Go to the Corresponding Questionnaire section for this industry.