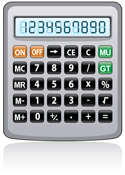 It is estimated that in order to get Central Plumbing and Heating off the ground, Felix and Michael will need a a total of $137,700. Of this both Felix and Michael will be contributing $40,000 each to bring the total contribution from shareholders to $80,000. The remaining it is estimated will be acquired in the form of a business loan.
The total of $137,700 in estimated start up costs have been bucketed into three large components as follows:
Estimated Fixed Asset Purchases: These will include capital improvements to the location being leased, furniture, fixtures and office equipment that will be needed for the office; Tools and Equipment like right angled drill and bits, reciproating saw, electric drain cleaner, jackhammer (for basement bathrooms), mud pump, threading equipment, chanelock pliers, piple wrenches, screw drivers, toilet flow tool, drank stick, lavatory nut tool, water key, EZ snap closet bolts, bucket boss etc.
Operating Expenses: The typical upfront expenses needed to run the day to day business operations of Central Plumbing & Heating. Bank fees, business liability insurance, licensing and bonding costs, automotive insurance etc.
Initial Inventory: the trucks and shop will needed to be fitted with basic inventory needed on jobs like valves, copper tubing, male adapters, copper elbows, gate valves, 2" pipes, 4" pipes, 4" clean-out with plug, 2" quarter-bends, 2" couplings, 4" eight-bend, glue, cleaners, primer, copper ells, Fluidmaster 400A valves, flappers, closet bolts, Mansfield and Fluid master seal kits, wax rings, supply tubes, chrome and plastic drain parts, faucet springs and seals, toilet seats, icemaker kits, 1/4" PEX, dishwasher elbows, dishwasher tailpieces, 1/3 horsepower garbage disposers, kitchen sink sprayers in white and black, delta diverters, PEX and CPVC products for water lines. Femco couplings, closet bolts, solder, paste sand cloth, acid brushes, acetylene gas, propane tank, cutting oil, pipe join compound, plumber putty etc.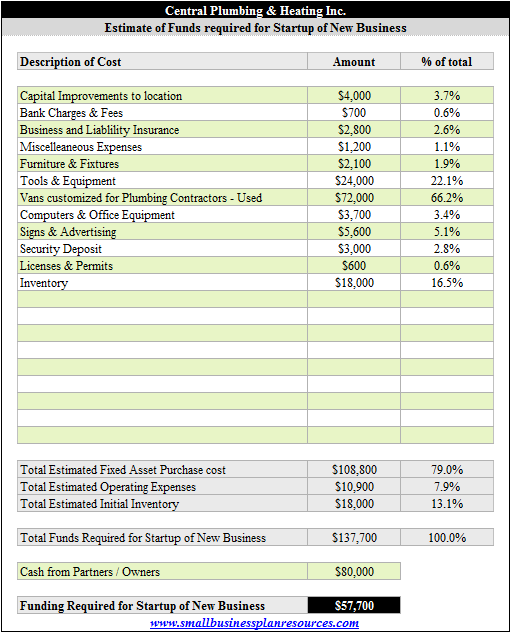 Felix and Michael understand that if the start up costs are higher than those being projected in this business plan, that they will have to either adjust the size of the term loan that they will be applying for, or else contribute larger sums of capital towards the business from their own savings.
Quick Links:
Go to the Corresponding Template section for this industry.
Go to the Corresponding Questionnaire section for this industry.