We are estimating that Central Plumbing and Heating will need a total of $137,700 in funds to get their operations up and running. Of this total amount, $80,000 or 58% of the total funds will come in the form of addition to capital from Felix and Michael. The remaining 42% or $57,700 will be raised by the company in the form of a term loan from a large lender with a local presence in Charlotte, North Carolina.
Michael had obtained a business loan from this lender in the past and had been able to pay it off successfully. He also has his personal checking and savings account with this institution. Additionally, Felix also used to have an auto lease with the same bank and had paid all the lease payments on time. Thus both Felix and Michael have an excellent credit rating with the bank besides having great credit scores themselves.
Both Felix and Michael understand that this term loan will be fully recourse term loan and the business will be liable for the loan since a lien will be placed on all the assets of the business. Additionally as is so often the case in the world of small business, both Felix and Mike will be personally liable for the balance outstanding on the loan. Both the owners are very comfortable with this personal guarantee given that they have plenty of assets to be able to cover the entire loan at any given time, and are therefore very comfortable taking on this additional liability.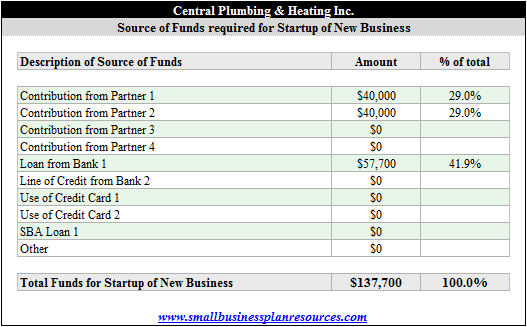 Quick Links:
Go to the Corresponding Template section for this industry.
Go to the Corresponding Questionnaire section for this industry.