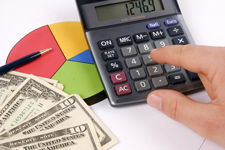 We are estimating that the total funds needed in order to get Lights On Electrical going are $136,000. If this amount, $75,000 or 56% will be contributions made by the owners Andy and Jose. The remaining 44% will have to be raised by the firm in the form of a loan from a large national lender that has a local presence. The amount of the loan will be $60,000. Andy has had a long term relationship with this lender and has been doing business with them for over 10 years. Joe has his first mortgage and home equity loan with the same lender. Thus both the owners of Lights On Electrical have prior financial history with the lender. During their discussion with the bank they have been given indications that they should have no problem security the loan for their startup.
We understand that some of the personal assets of each Andy and Joe may have to be put up as collateral as part of the application for the loan from the bank. The financial statements of both Andy and Joe show a stable portfolio of investments and plenty of equity in their respective homes, to be able to meet the collateral requirement easily.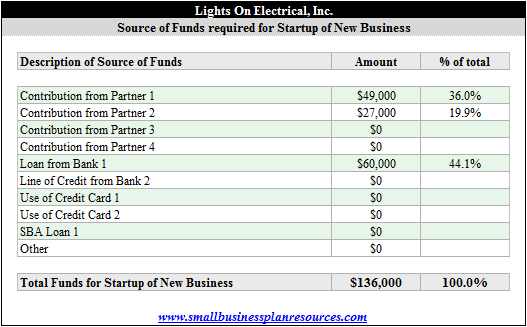 There is always the possibility that given the higher rate of risk typically associated with the electrical contracting business, Andy and Joe may not be able to secure the loan or may only secure part of the $60,000 that they are looking to borrow from the national lender. In that case both Andy and Joe are committed to bring additional monies to the table by tapping into their investment portfolios, savings accounts or if needed the equity in their homes.
All contributions to the business will be made by Andy and Joe based on their ownership interest in the company. Thus Andy will contribute 65% of the any new contribution and Jose will be responsible for the remaining 35%.
Quick Links:
Go to the Corresponding Template section for this industry.
Go to the Corresponding Questionnaire section for this industry.