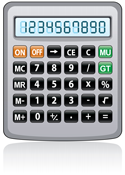 Our estimate for the total funds required to get Lights On Electrical off the ground is $136,000. We arrived at this estimate by taking in some fairly conservative numbers for the upfront costs that will be incurred in the coming days. The estimated expenses have been bucketed into fixed assets and operating expenses. The investment in fixed assets are of course the biggest component of the total estimated funds required for our startup. In the electrical contractor business, one of the largest investments is the customized automotive vans needed by us to haul our tools and equipment to and from jobs. We anticipate buying two customized high end vans for this purpose and will be investing an estimated $76,000 of the $136,000 for this purpose.
The next largest anticipated expense is of course tools and equipment - we have estimated that $32,000 or about 26% of the total funds needs for starting up operations will be going towards the purchase of tools. The remaining expenses are a combination of some fixed assets and operating expenses. Included in these anticipated startup expenses is $9,000 for Signs and Advertising. Getting the word there once we have hung our shingles is very important and we anticipate that this will be a very important investment for us as we look to get our business off the ground.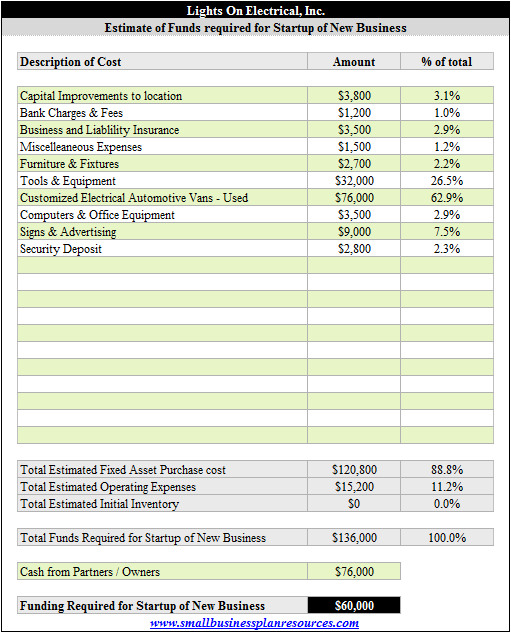 Out of the total $136,000 required, Andy and Jose will be contributing a total of $76,000 from their own savings. Thus roughly 56% of the total anticipated startup costs will be borne by the owners of the shop. The remaining 44% or roughly $60,000 will be secured in the form of a three year term loan from a large national lender that has a significant presence in the area.
We both understand that in the event our anticipated startup costs are higher than what we have estimated, both Andy and Jose are ready, willing and able to bring more money to the table from their own personal savings.
Quick Links:
Go to the Corresponding Template section for this industry.
Go to the Corresponding Questionnaire section for this industry.