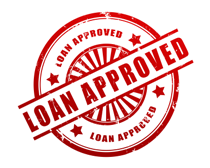 Andy and Jose of Lights On Electrical are looking to secure a term loan in the amount of $60,000 from a large national lender that has a local presence. They are estimating that the duration of the loan will be five years. Andy and Jose think that a three year loan term would result in a high monthly payment which they would rather not take on given that they are getting started. Since both Andy and Jose have good credit histories and given that the interest rate environment is relatively low, it is anticipated that they will be able to secure a loan with an interest rate of 6.75%.
A 5 year term loan at 6.75% interest, will result in a estimated monthly payment of $1,181 and annual interest expense of $14,172 for Lights On Electrical. If is possible however that the loan from the lender will not come through or may may be approved at a higher rate of interest. Boy Andy and Jose have prepared for this contingency. If the loan is not approved, Andy and Jose will be contributing additional capital from their savings. Additionally if the loan is approved an interest rate that is very high, Andy and Jose may choose to simply borrow the funds from home equity loans on their respective primary residences. These home equity loans typically carry a lower rate of interest.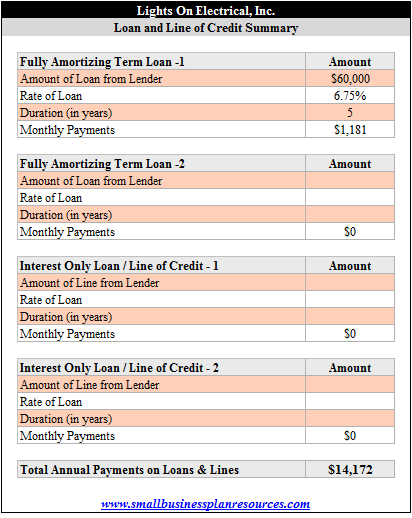 Quick Links:
Go to the Corresponding Template section for this industry.
Go to the Corresponding Questionnaire section for this industry.