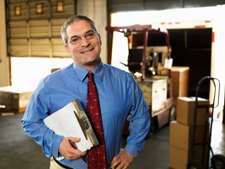 Lights On Electrical will be located in Cleveland, located in Cuyahoga county Ohio. Cleveland is the county seat of the State of Ohio and is located approximately 60 miles west of Pennsylvania. The Ohio and Erie canal combined with excellent railway link have helped Cleveland establish itself as significant business center.
The office for Lights On Electrical will be located on 1509 Loraine Avenue on the west side of Cleveland and is well known of its mix of specialty shops, markets, restaurants and other small businesses. With such an abundance of business, apartments and nearby residential neighborhoods, both Andy and Jose feel that they will be able to continue to enjoy a steady stream of business.
Lights On Electrical is located in a small strip mall on Loraine avenue with plenty of parking for the trucks that the company owns along with extra spaces for possible clients who may want to stop by occasionally. Typically electrical contracting work is done at the premises of customers - either residential or commercial, and so both Andy and Jose have chosen to lease a small 400 square foot office that contains only 2 rooms. The first room is about 250 square feet and will be able to accommodate desks and computer equipment for both Andy and Jose. The second smaller room is where the firm will employ its administrative staff. Any other junior production staff like apprentices or journeymen electricians that the firm decides will not be having dedicated office space. Typically these professionals will work alongside Andy and / or Joe at the various job sites.
Quick Links:
Go to the Corresponding Questionnaire section for this industry.