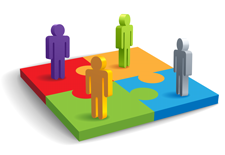 Both Andy and Jose will be doing all the work that comes into the shop themselves at the outset. They have plans of hiring one admin and may choose to hire LaMeche Williams, who has worked closely with Andy in the past. The firm may decide to start with LaMeche on a part time basis and then after three months convert the position to a full time position. As the business grows the firm anticipates adding sub-contractors as needed to their payroll for larger jobs. Additionally they will also be taking on one apprentice in the first year and another in the second year of business.
The management style that Andy and Jose like to follow is a very open and informal style of management - we feel that this is well suited to a smaller electrical contractor business with less than 5 employees. As the firm expands it is anticipated that more formal lines of reporting and communication will be established.
Quick Links:
Go to the Corresponding Questionnaire section for this industry.