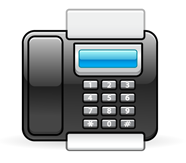 Lights On Electrical will be purchasing its computer hardware from Dell - this hardware will involve small stand along workstations running the windows operating system. There is no plans to install a server at this point given the limited technological footprint for the firm. Each computer workstation will also be connected to dual monitors that will add substantial productivity to the office. Other hardware will be a network printer that will be configured to run using the router giving even a laptop connected to the network the ability to print. Both Andy and Jose will also carry a laptop each with them for the job along with a portable printer. This will allow them to print out invoices, and also accept credit cards while at the clients location. Besides this the office will certainly have other items like a digital copy machine, fax machine, phone systems.Backup of all data will be done daily to the cloud using a third party service. Support for the all the workstations will be handled via a third party contractor.
In terms of software the firm will have:
Microsoft Office which will include Outlook, Excel, PowerPoint, Word and other productivity related software.
ACT for workgroups will serve as the customer relationship management software - here both Andy and Jose will be updating all customer relationship related information.
Viewpoint MEP estimating software which will allow Andy and Jose to make rapid and accurate estimate for all projects they are bidding on.
The office will also house one crosscut shredder that will ensure that all confidential information is disposed off in an extremely secure manner.
Quick Links:
Go to the Corresponding Questionnaire section for this industry.