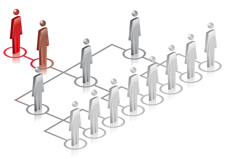 Lights On Electrical has two owners who will also be the managers and primary employees of the firm - Andy Powell and Jose Garcia. At the outset they will be supported by one admin and as the firm begins to gain a firm footing they intent to bring on more employees.
Andy Powell:
Andy will be the senior partner at Lights On Electrical. He owns a majority of the shares in the company. Andy started off as an apprentice at Hanson Electrical in 1987. He worked there as an apprentice until 1995 until he was able to get his journeyman license. After getting his journeyman card in 1993, Andy worked for Best Electrical Contractors until he decided to go our and get his own master electrician business set up in 1995. He has worked extensively in the residential and small commercial lines of the trade having done both jobs as an inside and outside line electrician. He also worked with larger electrical contracting firms as a sub-contractor on many jobs since 19995 and has developed deep relationships with many larger local firms. Andy was born in 1970.
Jose Garcia:
Jose is the minority shareholder in Lights On Electrical. He is a few years younger than Andy and was born in 1974. He met Andy at Hanson Electrical when he started his apprenticeship at the firm in 1992. Jose secured his journeyman electrician card in 1997 and went out on his own as a Master electrician in 1999. Jose is Hispanic and is fluent in Spanish. He has worked extensively on residential and small commercial structures primarily as an inside electrician. He does have a specialty in the wiring of IT for small and mid-sized businesses as well as home security systems. Much like Andy, Jose too has worked as a sub-contractor with larger firms and is well like and known in the community.
Together Andy and Jose bring more than 50 years of experience to the firm. They will be working on project themselves and later as they begin expanding, they will be able to manage their apprentices, journeymen's and sub-contractors with ease given their extensive knowledge and insight.
Quick Links:
Go to the Corresponding Questionnaire section for this industry.