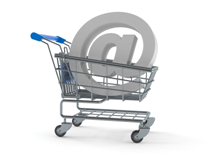 Lights On Electrical will have an a professionally designed website that will be the cornerstone of its web strategy. The site will have at least eight separate pages, each of which will highlight specific services that Andy and Jose will be providing their residential and commercial clients. The idea with having separate pages for each major service, is that both Andy and Jose want to be able to add specific content about that service on the page - how it will help the customers etc. Each page will also be optimized for search engine optimization and will become the landing page when an targeted advertisement is run offering specials on that particular service.
The website will also hold a repository of all the past newsletters that Lights On Electrical has sent out to its existing clients, and will provide anybody the ability to sign up for the newsletter with a couple of clicks.
The website will also include biographies on all the employee of Lights On Electrical and will allow the user to share any of the pages on social media. In addition to the website Andy and Jose will also have a professionally created face book page for the firm and will also create accounts on Twitter and Google plus. All these of course be a part of the large cohesive web strategy for the firm with one sole focus - inform the customer, educate the customer and develop an online presence which can be leveraged and translate into future business opportunities.
Additionally both Andy and Jose will also be listing their services with contractor evaluation and listing services like Angies List - after the completion of each successful job, they will make it a point to ask their clients to provide them with a reference. As always - any online profile or presence will include a link back to the company website.
Quick Links:
Go to the Corresponding Questionnaire section for this industry.