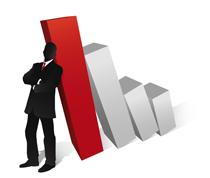 Andy and Jose of Lights On Electrical are calculating the break even point in terms of the number of customer transactions. In order to accomplish this, we first start with the operating expenses for the first year of operation. These are projected to be $57,746. $43,671 of the total operating expenses can be attributed to fixed costs - these are costs that the business is expected to spend in their first year of operations even if they do not make a single dollar in sales. Gross margins for a business like electrical contracting are projected to be at 60% which is fairly typical for the industry. The reason for this not all the sales will go towards the bottom line, approximately 40% of each dollar in sales typically goes to parts where the firm typically makes very little money - labor is what Andy and Jose get compensated for - their expertise and time.
Once we input these parameters into the break even analysis template we find that for each sales transaction of $350, we are looking at a gross profit of $210 which of course is 60% of the sale price. When dividing the adjusted operating expenses of $43,671 by the $210 of gross profit on each sales transaction we come up with a break even number of 208 transactions that have to be successfully performed by Lights On Electrical to stay in business.
In our sales projections for 2015, 2016 and 2017 we are projecting that even in a slow market environment we will be conducting 633, 654 and 645 transactions respectively. Thus given that we are projecting 208 transactions as the minimum needed to break even in the first year, we feel extremely comfortable with the viability of Lights On Electrical being a successful firm in the years ahead and being able to meet the expectations of growth and profitability set forth in this business plan.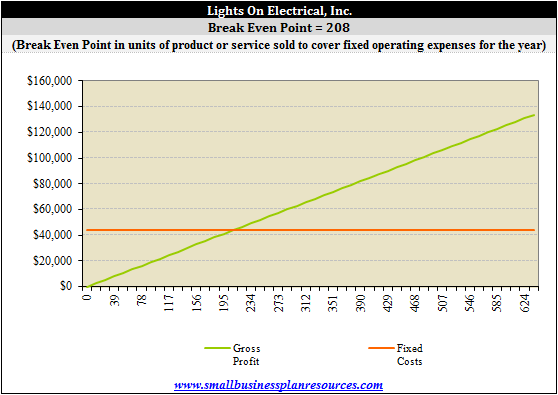 Quick Links:
Go to the Corresponding Template section for this industry.
Go to the Corresponding Questionnaire section for this industry.