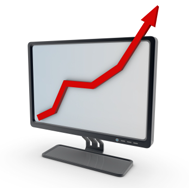 The Current Ratio is a very important ratio for a small business like Lights On Electrical. It is a key measure of the liquidity of the operations of a small business. In order to calculate the current ratio, the total current assets are divided by the total current liabilities. The resulting number shows how many times the current assets can cover its current liabilities. The higher the current ratio the greater the cushion between the current obligations of a Lights On Electrical, and the firm's ability to pay them using their short term cash equivalent assets.
Here we can see that the the current ratio for Lights On Electrical are projected to be 137, 161 and 369 for the years 2015, 2016 and 2017 respectively. This of coursemeans that there will be plenty of liquidity for the business to meets its short term liabilities. Fortunately for Lights On Electrical, the current liabilities are onlythe accounts payable which are projected to be $428, $473 and $503 for the three years respectively. The reason the current assets are projected to bea robust $58,783, $123,407 and $199,446 for each of the three years is that we are anticipating the business to generate a decent free cash flow which is the largestcomponent of the current assets. In the event this cash flow projection was to be affected by slower than anticipated sales, our cash position and therebythe projected current assets and resulting current asset ratio will certainly be affected negatively as well.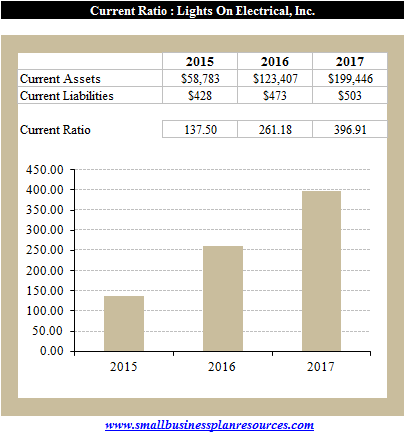 Quick Links:
Go to the Corresponding Template section for this industry.
Go to the Corresponding Questionnaire section for this industry.