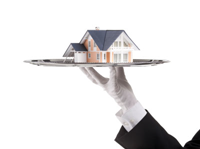 At Home for Realty will be a full service real estate office providing its clientele with the entire gamut of services that they expect from their realtors:
Facilitate the sale of homes by representing sellers as their listing agent.
Determination of market value based on their assessments of local market statistics.
Acting as a buyer broker to represent a buyer exclusively in a real estate transaction.
Provide landlords and tenants with solutions enabling the rentals of real estate property.
Provide limited property management solutions for residential and mixed use properties.
Quick Links:
Go to the Corresponding Questionnaire section for this industry.