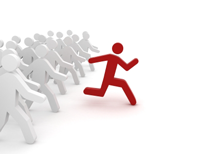 The total housing inventory of residential property is about 577k homes in Alameda County, California. This includes single family homes, 2 unit, 3 unit and 4 unit properties and also properties that have more than 5 units that constitute the commercial end of the property spectrum.
There are about 400 real estate offices in Alameda County, California where Home At Last Realty is located. The vast majority of these offices would be classifieda small real estate offices with one to four employees. Thus this clearly shows that there is competition in the real estate business but that is nothing new. There has always been many realtors working full time or part time in this industry. What separates the wheat from the chaff is always the industrious full time professionals who have an excellent command over their inventory and marketplace versus the part time realtors who only work from time to time.
When we divide the total housing stock of 577k units by 400 real estate offices we get about 1,442 units per real estate office. This indicates the total pie and what slice of the total pie on average each real estate office can be expected to service. Even if 3% of each of the 1,442 real estate units were to be bought and sold each year, it would represent 43 property transactions per for each of the 400 real estate offices.
We believe that given the excellent backgrounds of both Jose and Diana, the prospects for success for Home At Last Realty look very good.
Quick Links:
Go to the Corresponding Questionnaire section for this industry.