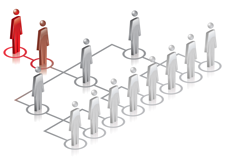 In the first year of operations the management of Home At Last Realty will consist of its two owners - Jose and Dinah and four real estate agents who will be supported by one admin. In the second year, there are plans to add a second administrative associate who will assist the producers in the office with various functions.
Jose Garcia:
Jose Garcia the senior partner of Home At Last Realty has 15 years of experience as a realtor. He began his career as an office assistant in one of Oakland's most prestigious real estate offices. Within two years he learned the ropes of the real estate office functions and decided that he wanted to actually become a realtor himself. He was able to obtain his real estate license and worked as a junior realtor for 5 years after which he became one of the top producers in the office. He has been a senior producer for more than 7 years and is extremely well known in the Oakland community for his work involvement with the local Hispanic chamber of commerce. He has held many seminars on home buying and is frequently invited to speak and local area realtor associations.
Dinah Castillo:
Dinah comes from a long line of realtors. Her mother and two sisters are also realtors and it was no surprise that she too decided to take up the profession by starting out a junior real estate agent working as a team with her mother at one Oakland's oldest real estate offices. She was able to achieve tremendous success and rose to the ranks of one the largest produces at the office within 7 years. After 12 years she decided to join forces with Jose who she has known for over 5 years.
The four junior real estate agents that Jose and Dinah will be hiring as they open their office all have between 1 to 2 years of experience. They are still working as real estate agents part time and are beginning to get some traction in the business but will need a lot of support and education from the two senior producers.
Quick Links:
Go to the Corresponding Questionnaire section for this industry.