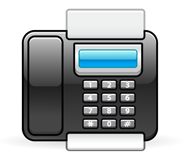 Home At Last Realty will be investing in some excellent hardware and software from Dell. Besides the small local area network that will be set up at the office, both Jose and Dinah will also be carrying laptops with them to enable them to take loan applications while vesting prospects. Investments in small mobile printers will also be made in the second year, which in turn will give the owners the ability to print out a contracts and documents for users to sign even when they are on the road.
Network printers and a multi functional copy machine, printer and scanner with faxing capability will also be technology investments that will be made. The telephone system being contemplated will be from RCA. Additionally shredders, external back up drives and cloud back up services like Mozy will also be utilized to ensure that all the data is being regularly backed up in the event of a catastrophic damage to the office.
Each workstation will be equipped with large monitors to enable higher levels of productivity. Power backup solutions from APCC will also be deployed to ensure that the computers have some time during which they can be backed up in the event of a power failure.
Productivity software will include Microsoft Office, Top Producer, Techsmith's Snag IT and Camtasia along all operating in a Windows / PC based environment.
Quick Links:
Go to the Corresponding Questionnaire section for this industry.