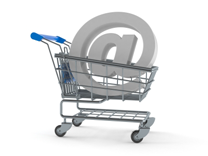 Home At Last Realty will have a detailed and comprehensive website which will provide its clients with the ability to view all the inventory in the area. It will not only showcase the real estate inventory that is on the books with Home At Last Realty, but will also give clients the ability to view others homes from the multiple listing service on our site. Additionally both home buyers and sellers will be able to download all the forms and brochures they need. These forms will be created by us in machine fillable Adobe Acrobat - this way clients will have the ability to fill the forms out online and then print them out ready for signatures.
Both Jose and Dinah will also be using Google Adwords to market their real estate services online within the target market of Alameda County. The great part about having a website is that when users click on the advertisements placed using Google, they are directed to the web site and can get to know the company and begin the application process right away.
Quick Links:
Go to the Corresponding Questionnaire section for this industry.