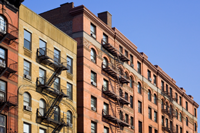 In order to get a clear understanding of the distribution of housing stock we have broken down the housing stock into the following categories:
1-unit detached
1-unit attached
2 units
3 or 4 units
5 to 9 units
10 to 19 units
20 or more units
Mobile home
Boat, RV, van etc.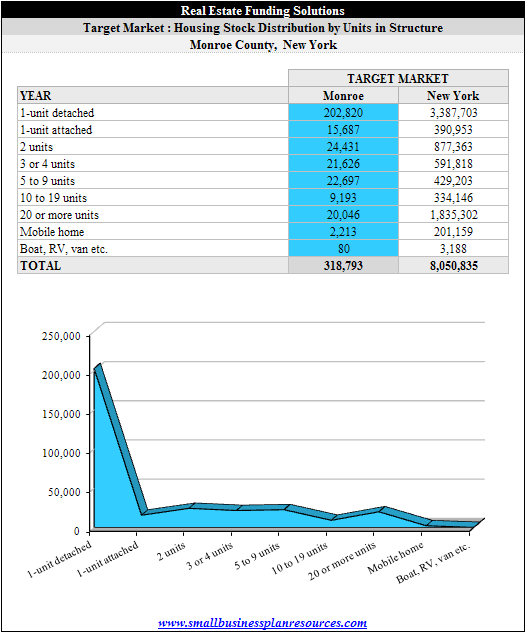 The housing stock distribution analysis for Monroe county shows not surprisingly that almost two third or 64% of the housing stock for the county is in single family homes also classified as 1-unit detached housing. What is surprising however is that when we look at the state of New York, that number is only 42%. This is a significant piece of information and greatly impacts Real Estate Funding Solutions. Single family detached homes are the most relatively easy to fund pieces of real estate compared other forms of residential and small commercial real estate. Most lenders and government sponsored entities like the Fannie Mae, Freddie Mac and the FHA have the greatest preference for single family home mortgages since they are the easiet to package and sell in the secondary market.
A disproportionately high amount of single family homes in Monroe county implies that all other things being equal, it should be relatively easier to get approvals on these loans and that is always a good thing in the mortgage broker business! When we continue with our analysis we also find that the remainng housing stock which is homes that are 4 units or less comprise a total of 19.3% of the total housing stock of Monroe county. The same number for the state of New York is 23%. Thus when combined the total residential housing stock of Monroe county is almost 84% of the total housing stock in the county indicating that the remaining housing stock that is not defined as residential represents only about 16% of the total. This is excellent for a mortgage broker whose primary mortgage focus will be the financing of residential mortgages. In New York state we find that almost 30% of the total housing stock is classified as non residential which of course means that there are fewer lenders willing to lend to these properties and securing the successful approval on the financings for these properties is much tougher than approvals for residential properties.
Quick Links:
Go to the Corresponding Template section for this industry.
Go to the Corresponding Questionnaire section for this industry.