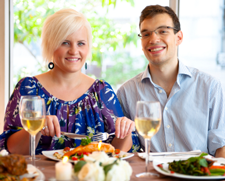 In this section of the business plan we analyze consumer spending on Food away from home for the entire country to get a sense of the larger trends in place for the industry in terms of consumer spending habits. There is no point trying to get into an industry where the macro economic spending trends are not working. That is not to say that if consumers are not spending as much as they used on food away from home, that one should not think about opening a restaurant like A Taste of Tuscany; what we need however is a realistic understanding of what the larger trends are so that we can adapt our business accordingly.
In this analysis we look at data covering a decade and find that the consumers that spend the most on food away from home in pure dollar terms are those that fall in the 34-44 and 45-54 age brackets. This fact has held steady over the years and will probably not change in the future as well, given that folks in this age bracket tend to be the ones with the most disposal income reaching the peak of their income earling years. Before that folks are still not quite earning as much as they will when their careers mature and once cross their 50's, they tend to slow down on spending on all items since their income slows down and they begin looking towards retirement.
Another interesting trend we notice when looking at the data is of course the almost 35% growth in the amount spent by those consumers who are in the age bracket of 65 years or more. This trend clearly ties in with other demographic studies that show that as a society, we are living longer and are staying active longer than our parents used to and part of that involves spending more on food away from home.
This of course means that when we decide to advertise locally, we will ensure that the audience receiving most of our attention will fall in the 35 to 44 and 45 to 54 age bracket. We have not intention of forgetting the other age brackets, but let's face it, there probably won't be too many folks under 25 years of age that will come to dine at a reasonably high end restaurant like A Taste of Tuscany.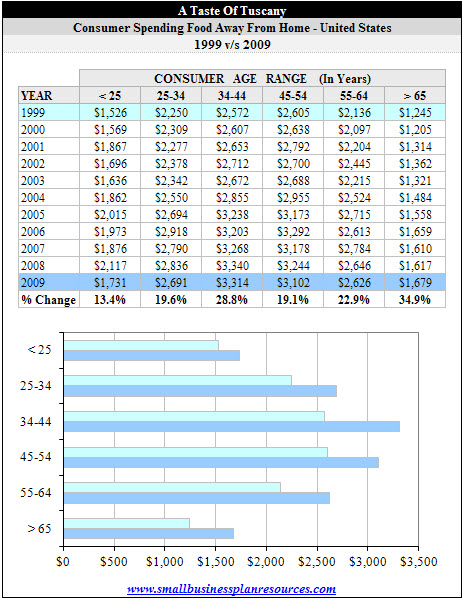 Quick Links:
Go to the Corresponding Template section for this industry.
Go to the Corresponding Questionnaire section for this industry.