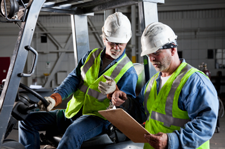 In this section we look at the unit labor costs and the labor compensation index for the accomodation and food services industry. This analysis covers two key data points:
1. Unit Labor Cost Index - this index which is obtained from the Labor Productivity and Cost Data Tables of the Bureau of Labor Statistics shows the index for each unit of labor for the accomodations and food services industry.
2. Labor Compensation Index - this index also obtained from the same data sources shows the index of the oveall labor compensation.
Unit labor costs represent the cost of labor required to produce one unit of output. The unit labor cost indexes are computed by dividing an index of industry labor compensation by an index of real industry output. Unit labor costs also describe the relationship between compensation per hour and real output per hour (labor productivity). Increases in hourly compensation increase unit labor costs, while increases in labor productivity offset compensation increases and lower unit labor costs.
Compensation is a measure of the cost to the employer of securing the services of labor. It includes wages and salaries, supplements (like shift differentials, all kinds of paid leave, bonus and incentive payments, and employee discounts), and employer contributions to employee-benefit plans (like medical and life insurance, workmen's compensation, and unemployment insurance).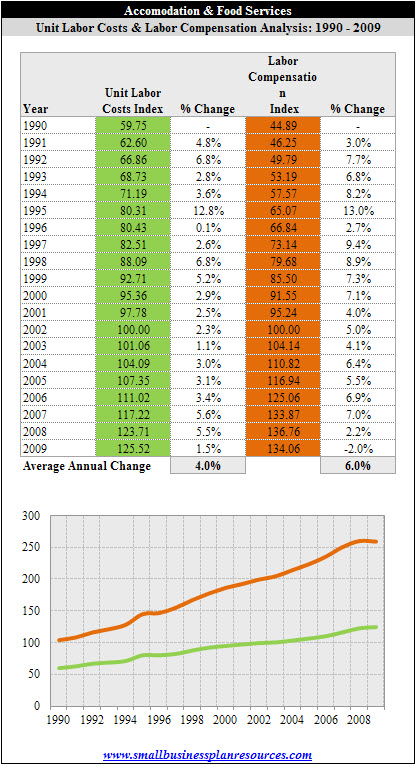 When looking at data and the accompanying chart we find that the labor compensation index for the food and accomodations industry has been increasing at a higher rate than the unit labor cost index during the same time period which leads us to believe that the industry has gotten more productiveand that increase in productivity has kept the unit cost of labor from increasing at the same rate as the overall labor compensation.
The increase in productivity can mostly certainly be attributed to the improved use of technology in the food and accmodations industry in generaland the full service restaurant industry in particular. The output of full service restaurants has remained robust with the advent of ordering systems, reservationssystems, inventory management systems along with the wider use of the internet that has made it easier for a local restaurant to market itself better and bring inmore customers through its doors.
Quick Links:
Go to the Corresponding Template section for this industry.
Go to the Corresponding Questionnaire section for this industry.