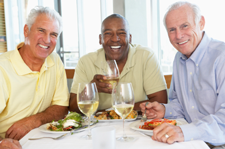 In this section we analyze consumer spending on the consumption of foods away from home by race over a five year period. It is well known in the food business that different ethinicities in our society have a preference for certain kinds of food and culturally there tends to be a disposition and preference towards certain certain foods over others. For example, if you go to England, you will find that fish and chips are a very common fast food item that is consumed by Britons, here in America there are only a handful of fast food establishements like Nathan's that sell fish and chips.
When we look at the data for how much was spent by Whites, Blacks and Asians over 5 years on fast food, we can see very clearly that Blacks have spent more money on average in dollar terms on food away from home. In 2005 the averge black family spent $3,052 per year on foods away from home and in 2009 that number rose to $3,660. Asians on the other hand only spent $1,657 in 2005 on foods away from home on average and that number actually reduced to $1,645 in 2009 showing an even lesser demand for this kind of expenditure.
Another data point that stands out is of course the percentage change in the amount spent over the last five years by blacks on food away from home – while the consumers belonging to Asian, White and other races have actually been spending less money on food away from home, folks in the black community on average are now spending almost 20% more than they used to, on food away from home.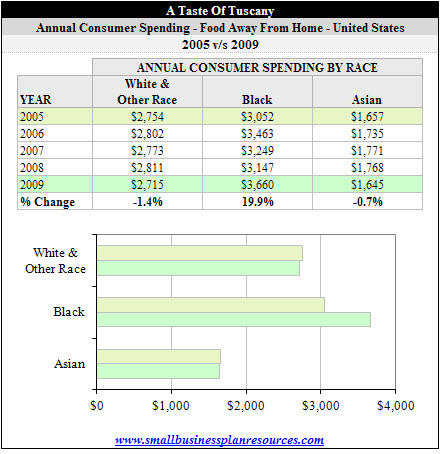 One of the conclusions that this leads us to is of course that Asians tend to prefer prepared foods in their home as opposed to Blacks and that certainly has implications for a small business like a A Taste for Tuscany. If for example, our target market has a preponderence of upscale Asians in the population, then it stand to reason that we will not do as well than say if our restaurant was located in a upscale Blacks and Whites. While these conclusions may not always be true, it is important to understand large macro trends at work and adapt business strategies accordingly.
Quick Links:
Go to the Corresponding Template section for this industry.
Go to the Corresponding Questionnaire section for this industry.