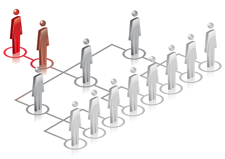 Spotless Homes has three owners who will also be the managers and primary employees of the firm. Anthony, Christine and Sofia. They will be performing all of the work on the various cleaning jobs. They will also be collectively handling the operations of the firm and are not projecting that they will need any other staff in the immediate future.
Anthony Cruz:
Anthony Cruz began is 38 years old and is a first generation American. His parents were originally from Cuba. Anthony began working in the cleaning services industry when he got his first job at 18 working for a local chain of motels in the Marietta area. He went on to begin his own individual house cleaning businesses at the age of 25 and has been successfully running his business and growing it steadily.
Christine Esposito:
Christine Esposito is 41. She started working for her mother Mary Ann at the age of 15 and by the age of 21 she had become a full time house cleaning specialist. Mary Ann had been able to establish a very successful house cleaning business which Christine took over when Mary Ann retired. For the last 7 years, Christine has been able to maintain and steadily grow the book of business she inherited from her mother. Christine has also began specializing in working closely with realtors and property managers who send her a lot of business relating to house cleaning before and after a move.
Sofia Diaz:
Sofia Diaz is 37 and is the youngest of the three owners of Spotless Homes. Also a native of Marietta, she started working in the House Cleaning business for a large franchise when her son Jay was born. After working for the large franchise cleaning operations, she decided to go out on her own and begin working independently. It was not long before she was able to successfully build a good book of business for herself.
Quick Links:
Go to the Corresponding Questionnaire section for this industry.