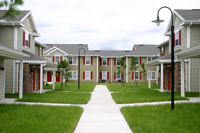 In order to get a clear understanding of the distribution of housing stock for Mecklenburg County & the State of North Carolina by number of rooms, we have broken down the housing stock into the following categories:
Units with 1 Room
Units with 2 Rooms
Units with 3 Rooms
Units with 4 Rooms
Units with 5 Rooms
Units with 6 Rooms
Units with 7 Rooms
Units with 8 Rooms
Units with 9 or more Rooms
In Mecklenburg County housing units that have 5 rooms (including living room, bathroom & kitchen), are 49% of the total housing stock. For North Carolina this number is 50.6%. Thus half the housing stock in your typical 2 bedroom apartments, townhomes or small single family homes.
15.7% of the housing stock in Mecklenburg County has 6 rooms as compared to 18.8% statewide.
14% of housing units in the County have 9 or more rooms as compared to 10% statewide.
Clearly when we look at this analysis along with the housing stock distribution by year the structure was built, we find that the target market of Mecklenburg County has an older housing stock with half the housing units having less than 5 rooms. The target market also has more units with more than 9 rooms and when we combine this piece of data with the analysis for housing stock distribution by units in structure, we can easily conclude that there are many more multiple unit homes here than in the state of North Carolina.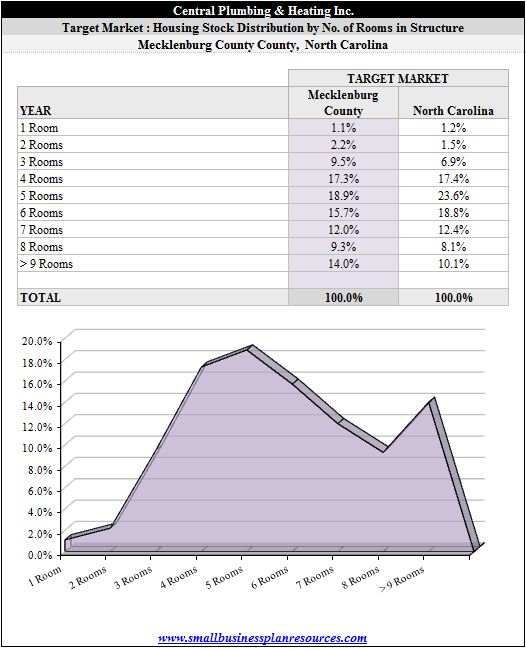 This is excellent news for Felix and Michael of County Plumbing and Heating. Multi-family homes require a lot more repair and upkeep that just the single family home. The plumbing in these units tends to be complex and requires the steady hands of experienced plumbers like Felix and Mike. Additionally once a plumber is able to establish a good rapport with the property manager for one of these multi-family units, they tend to get called every time there is a problem with plumbing or heating issues in any of the units.
Quick Links:
Go to the Corresponding Template section for this industry.
Go to the Corresponding Questionnaire section for this industry.