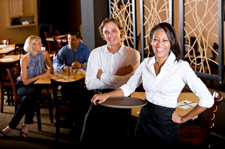 This analysis of plumbing contractor businesses in Mecklenburg County has three parts:
The first part is the total number of establishments in the County.
The second part deals with the total number of employees for landscaping contractor businesses in the County.
Finally, the third part of this analysis is the average number of employees per landscape contractor business establishment in the County.
In 2005 there were 239 plumbing contractors in the target market of Mecklenburg County. This number fluctuated a few over the next few years but remained at or around 240 establishments. However in the aftermath of the great recession of 2008, we see that this number fell off to 230 in 2011, only to pick up again and actually climb all the way to 250 establishments in 2013.
The total number of employees working at plumbing contractors in Mecklenburg County was 4,423 in 2005. However in 2014 we find that this number had dropped down to 4,190 representing a decline of 5.3% during the decade. What we see is that the total number of employees actually peaked all the way to approximately 5,200 employees in 2007, 2008 and 2009 before beginning a steady decline donwards. We think that this has to do with the fact that boom in home construction and remodeling that peaked just before the collapse of Lehman Brothers and the financial crisis that ensued.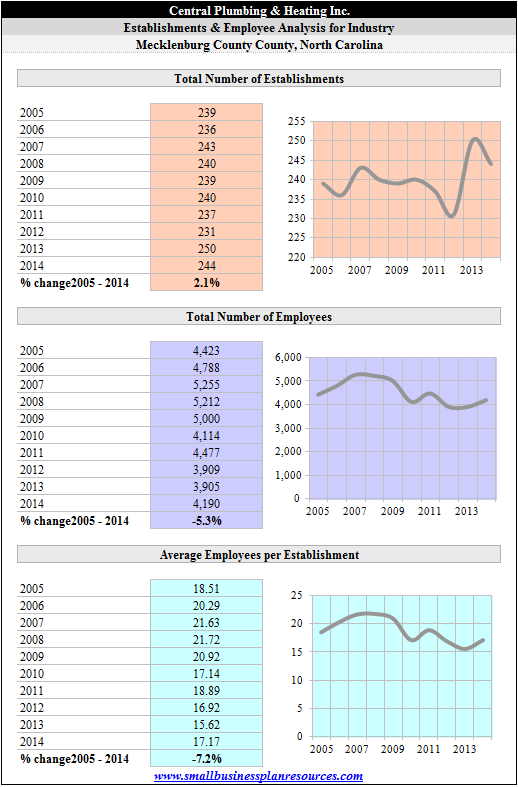 The average number of employees per plumbing contractor establishment stood at 18.51 in 2005 and much like the total number of employees analysis, this number peaked during the years just before the great recession before dropping down all the way to 15.62 employees per establishment in 2013. It is important to note that having many sub-contractors as employees is fairly common in the plumbing contractor business. Very high turnover is characteristic of the industry and so while we see that each firm has a fairly high number of employees, many of these are not full time employees working on the company payroll for the entire year.
Quick Links:
Go to the Corresponding Template section for this industry.
Go to the Corresponding Questionnaire section for this industry.