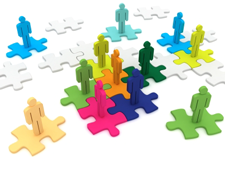 Central Plumbing and Heating will be starting out as a small contracting company providing its residential and small commercial clients with plumbing and heating contracting services focusing on repairs and remodeling. In order for the firm to grow and thrive, Felix and Michael will be looking to create the following strategic partnerships:
General Contractors: Partnerships with general contractors is the one sure way to get a constant stream of remodeling business. Typically when a new construction is being undertaken or an large remodeling is being considered, the client will hire a general contractor for the job. The general contractor in turn has the ability to choose and bring in the plumbers that they want to work with on the job and this is where the value of a strategic partnership comes into play.
Realtors: A great source of remodeling business is realtors. Anytime a client is looking to sell the house, realtors will almost tell the sellers that they need to spend some money to get the bathrooms and kitchen updated to enhance the value of the property. Thus having a strategic partner like a realtor bring in plumbers like Felix and Mike can provide great value to the seller of the home and give the plumbers and excellent opportunity to sell their services. Many sellers like to use the same plumbers when they in turn decide to buy another home and need plumbing and heating services.
Interior Decorators: Interior decorators are typically called in when a client is looking up update a new or existing home. Having strategic relationships with Interior Decorators will provide Felix and Michael and excellent way to get their foot in the door for the lucrative high margin remodeling jobs.
Quick Links:
Go to the Corresponding Questionnaire section for this industry.