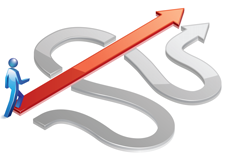 These are the key elements of success in the landscaping contracting business today:
Excellent knowledge of a target market like Allegheny County, Pennsylvania.Careful evaluation of jobs and accurate bids and quotes.
Optimum use of technology to ensure that the business is being productive.
Efficient collections - making sure receivables are being collected in a timely manner with very low bad debts.
Superb customer service from the beginning of the engagement to the end of the sale.
Both Frank and Peter know with their combined 55 years of experience that different localities in a target market like Allegheny County will require a different pricing and
service structure. For example they will not be quoting the same prices for homes in the North Hill region of the County as opposed to homes in the East Hills region.Frank and Peter also know full well that the biggest problem in the landscape contracting business is not getting the work - it is how to estimate the amount of work accurately, and then making sure that the job is completed in a timely manner. The challange with the landscape contracting business is that the spring to summer seasons is where they
are extremely busy. Thus time wasted on a job or the submission of inacurate bids due to lack of proper due diligence can lead to a substantial negative impact on the bottom
line. To that end either Frank or Peter will make sure they visit the property and meet with the homeowner personally before submitting a bid or quote for a job.In order to estimate jobs accurately, Green Lawn Landscaping will be utilizing software that will ensure that each job is broken down into tasks and a time and material estimate
is made for each job befor the determination of a profit margin which will be market sensitive. Thus if a job will cost the firm $430 in time and material, then that will become
the baseline cost to complete that job irrespective of the location. Only after that baseline number has been established, will the profit margin be added - thus in the North Hills region Frank and Peter may choose to have add a profit margin of 50% whereas in the South Hills region they may choose to only add 35% depending on their understanding of the competition and economic vitality of the two markets.
Another key area that will be giving Green Lawn Landscaping a competitive edge will be their excellent receivables management process. Here once again, both Frank and Peter
are only too knowledgeable about the importance of knowing when and how much of their cash flow will be needed. Receivables management, payroll and accounting will
also be done with an integrated estimation, bidding and collection system.
Quick Links:
Go to the
Corresponding Questionnaire section
for this industry.