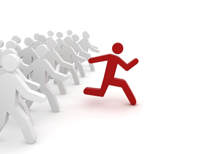 Central Plumbing & Heating will be offering plumbing contracting services to the target market of Mecklenburg County, North Carolina. It is anticipated the most of the customers for the company will be residential mixed in with the occasional commercial, government and medial facility.
The housing stock of residential properties in Mecklenburg County is 406,894 homes of which 67% will be 1 unit attached and detached homes - basically your typical singlefamily home. When 2 unit, 3 unit and 4 unit homes are also added up, we find that 71.5% of all the total housing stock of the target market is in residential properties with 4 or less units.
There are total of 488 plumbing contractors in the target market of Mecklenburg County with 50% of these firms having less than 4 employees. When we divide the total housing stock of the county by the number of plumbers in the county, we come up with 833 - that is to say that each plumbing contractor has 833 homes to work on - that is plenty of business to go around for everyone.
With the extensive experience and goodwill that both Felix and Michael bring to the table, we feel that Central Plumbing and Heating should do extremely well.
Quick Links:
Go to the Corresponding Questionnaire section for this industry.