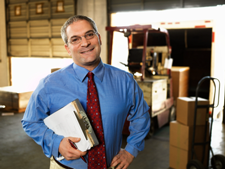 The offices of Central Plumbing and Heating will be located in Charlotte, North Carolina in Mecklenburg County. There will only be one office for the company at 1255 Chastian Avenue. Both Felix and Michael are well established plumbing contractors who know full well that the plumbing business does not require a very large amount of office space since all the work is actually done at the client's location.
The office space for Central Plumbing and Heating will be about 640 square feet and will be divided into 2 rooms and a small reception area. The main room will be where both Felix and Michael will have their desks, telephones, computer equipment etc. The reception area will have room for the part time office operations personnel. There willbe spare room of about 200 square feet that will be used for the storage of inventory and equipment.
Additionally both the vans owned by the business have been customized for the Plumbing and Heating trade with plenty of bins and shelves that will stock the rolling stock of inventory needed by the company to be able to provide its service to the customers.
The business insurance carried by the firm will cover all the inventory, tools and office equipment. The commercial automobile insurance policy will cover the trucks themselves. A security system will be installed in the office and on both the vans to prevent the theft of valuable inventory.
Quick Links:
Go to the Corresponding Questionnaire section for this industry.