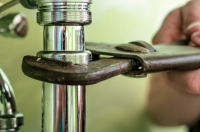 Central Plumbing and Heating will be providing plumbing and heating services to mostly residential and some commercial homes in the target market of Mecklenburg County in North Carolina. With many years of experience below their belts, both Felix and Mike are confident that they will be able to deliver a quality service to their customers while running their business with a high degree of integrity.
The following is a listing of some of the services that will be provided by the company:
Typical residential repair work involving faucet & showerhead replacement, washing machine, dishwasher installations etc.
Installation of water treatment Equipment
Installation, repair and replacement of hot water heaters (especially in the Charlotte).
Back flow prevention
Gas piping
Installation of fire sprinkler systems
Installation of roof drainage systems
Kitchen and bathroom remodeling work.
Maintenance of boilers
Installation of tank less water heaters
Installation of radiant floor heating solutions
Total re-piping of older homes
Water filtration systems installation
Garbage disposal installations and replacements
New construction work involving the laying down of the plumbing infrastructure for the house all the way down to the sinks, bathtubs and showers.
Quick Links:
Go to the Corresponding Questionnaire section for this industry.