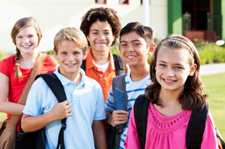 When comparing the educational profile of the target market of Allegheny County and the State of Pennsylvania, some interesting facts emerge. On balance the population Allegheny County is better educated than the rest of the State of Pennsylvania. For example when we examine folks who have only graduated less than 9th grade, we find that in Allegheny Count this number is only 1.9% of the population when compared to 3.7% statewide. Likewise when we look into folks who graduated high school or got their GED, we find that almost 30% of the residents of Allegheny County only went this far as opposed to 37% for the entire State.
The major differences start showing up in higher education like Bachelors and Masters degrees. A full 22.9% of all residents of Allegheny County have received their Bachelors degree as compared to only 17.3% in the State of Pennsylvania. Graduate degrees like Masters or higher again shows 15.8% of Allegheny County residents having achieved this high bar as compared with only 11.1% for the entire state.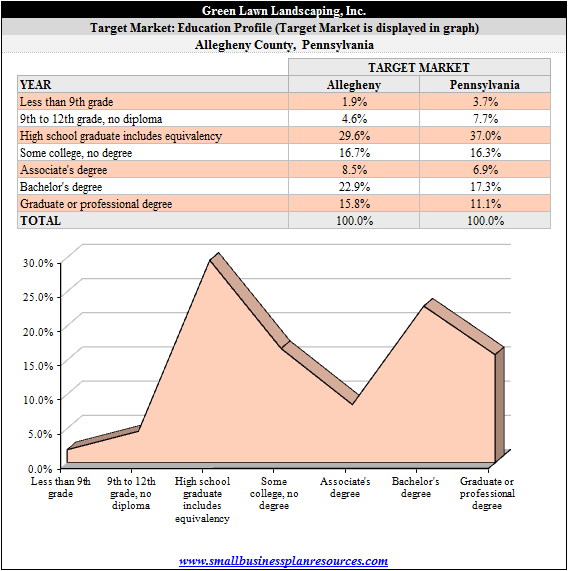 Clearly all this points to a much better educated population for the target market and this is good news for Green Lawn Landscaping and its owners Frank and Peter. Both Frank and Peter have been great advocates of consumer education and believe strongly that an educated consumer is the best consumer - this play very well into the higher levels of educational achievement in the target market - any business that is able to provide their consumers with information, provide written estimates and bids and all the supporting paperwork in a professional and diligent manner will always do better than others.
Quick Links:
Go to the Corresponding Template section for this industry.
Go to the Corresponding Questionnaire section for this industry.