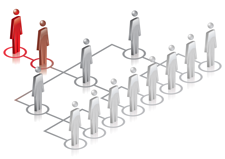 Green Lawn Landscaping has two owners who will also be the managers and primary employees of the firm. Frank Murphy and Peter Perez. They will be performing all a big chunk of the work on their jobs along with production staff that will be assisting them. All jobs will require either Frank or Peter to be present at the site. One part time office operations staff member will also be added once operations gets underway.
Frank Murphy:
Frank will be 50% owner of Green Lawn Landscaping and has more than 30 years of business in the field. Frank started working for his father when he was 15. Frank Sr. had his own small landscaping contracting business and Frank was able to learn a lot from him growing up. Frank also went to the Community College of Allegheny County where he earned a degree in horticulture. Frank worked with this father and later took over the business from Frank Sr. when the later retired. After 30 years of being in the business at the age of 45 Frank decided that time had come to partner with another fellow landscaper and increase the size and scale of the overall operations.
Peter Perez:
Peter's folks were born in Cuba and he is first generation American. He started his career by working for garden designer at the age of 20. He worked there for 5 years and was really able to learn the subtle art of landscape and garden design. Later he started his own garden design and landscape contracting business and has been running it successfully for the past 20 years. Much like Frank, Peter was always of the mindset of increasing the size of this business by partnering up with a similar like minded business owner. Peter is fluent in Spanish.
Frank and Peter bumped into each other when they were working as sub-contractors for a large commercial landscape contractor in Allegheny County. They have know each other for over 10 years.
Quick Links:
Go to the Corresponding Questionnaire section for this industry.