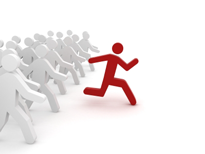 Green Lawn Landscaping will be looking to offer landscaping contracting services to the target market of Allegheny County, Pennsylvania. The largest clients of the business will be residential properties combined with some small commercial properties and the occasional large office complex.
The total housing stock of Allegheny County is approximately 589k properties, of which about 367k or 72% are single family home and an additional 115k or almost 10% of the properties are 2, 3 or 4 unit homes. This will be the biggest chunk of the target market properties that Frank and Peter of Green Lawn Landscaping will try and zone in on.
There are a total of 451 landscaping contracting firms in the target market of Allegheny County and that means that there are little more than 1,000 1 to 4 unit properties, for each of the 451 landscaping contracting firms - that is plenty of work for everyone!
Thus we find that while there are many firms offering landscaping contracting services to the target market, there is also plenty of business to go around. Given that both Frank and Peter have more than 55 years of combined experience serving this market, they should be able to do well for themselves in the coming years.
Quick Links:
Go to the Corresponding Questionnaire section for this industry.