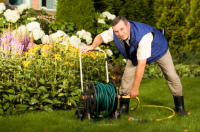 Green Lawn Landscaping will provide landscaping services to residential, small commercial and occasionally to a large office complex in its target market. With the many years of landscaping contracting experience between them, both Frank and Peter are confident that that will be able to deliver this service with high quality and run their business with integrity.
The typical landscaping contract involves performing the following activities on a lawn:
Lawn Moving and Edging
Bed Maintenance that includes weeding, raking, cultivating, light pruning, establishing edges
Plant care that includes planting, feeding, cutting, dividing and deadheading.
Cleaning work that mostly involves blowing out leaves, collecting, packing and getting them ready for pick up by the local township.
Power raking the lawn.
Aeration which involves puncturing the soil with spikes (spike aeration) or remove approximately 1" x 2" cores of soil from the ground (core aeration).
Top dressing & overseeding
Application of Moss and fertilizer
Application of Lime / Sulfur if necessary
Spraying of weed prevention applications
Green Lawn Landscaping will be offering the following packages to their customers:
Spring Clean Up
Summer Clean Up
Fall Clean Up
Ad-hoc Clean-up packages
Annual Lawn Maintenance contracts
Quick Links:
Go to the Corresponding Questionnaire section for this industry.