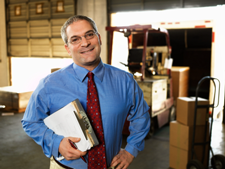 Green Lawn Landscaping will be located in Pittsburg, Pennsylvania in Allegheny County. There will only be one office for the company and it will be located at 1018 Musgrave Street. Both Frank and Peter are well established Landscape contractors and they know that their business offers all its services at the clients locations which tend to be mostly residential properties in the County along with some small commercial and the occasional large office complex in the downtown Pittsburgh.
The office for Green Lawn Landscaping will have 500 square fee of office space since the landscaping contractor business does not require a lot of office workers to run their day to day operations. However, the lease comes with 6 large parking spaces that will be used by the company to park their trucks and trailers needed to carry their equipment and personnel to and from the job site.
Additionally, the lease signed by Frank and Peter, also comes with a large shed in the back yard where the company will be able to store their equipment, fertilizer, seeds and salt that they will need for their various jobs. The owners will have the ability to secure the shed with a lock to ensure the safety of their equipment.
The business insurance carried by the firm will cover all the office equipment like computers, fax machines, scanners etc, and of course all the equipment and tools that belongs to the company.
Quick Links:
Go to the Corresponding Questionnaire section for this industry.