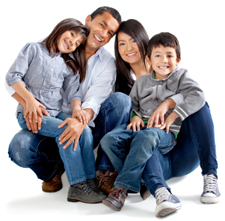 Cuyahoga County has a population of 1,263,154 compared to a population of 1,412,140 back in 1990. This roughly 10.6% decrease in the population has a lot to do with the overall decline of manufacturing and industry. When we look at the overall population of the State of Ohio, we see that there has actually been a 6.7% increase of people from 10,847,115 people back in 1990 to 11,570,808 people in 2013.
The median age for the target market of Cuyahoga County is 40.2, slightly older than the 38.8 years for the entire state of Ohio. There are slightly fewer men in the County than the state of Ohio, and that of course means that Cuyahoga County has more women as a percent of the total population than the overall state of Ohio.
Just as in the case of the overall population, there has been a decline in the labor force for Cuyahoga County. Between 1990 and 2013, the County saw a decline of 8.2% in its civilian workforce while the state of Ohio saw an increase of 5.7% during the same time period. Interestingly the per capital income for the County at $27,423 is higher than the $26,046 per capita income for the State of Ohio. Interestingly the median household income for both the County and the State are almost identical.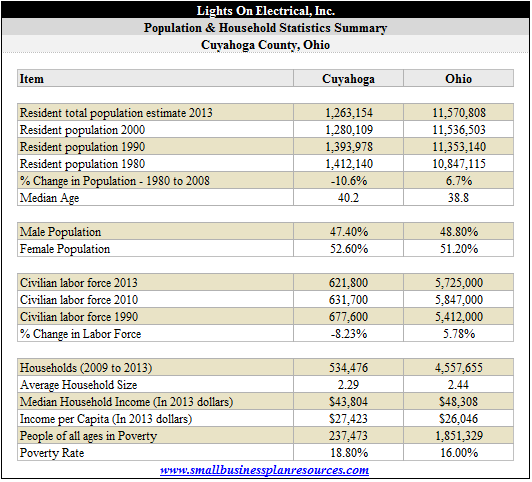 When it comes to poverty, we find that the target market of Cuyahoga County has an overall poverty rate of 18.8% compared to 16% for the State of Ohio. There is little doubt that a lot of this has to do with the fact that Cuyahoga County includes the city of Cleveland that has many folks struggling to break about the poverty line.
The County and the State of Ohio has long been a traditionally Democratic state with two out of three folks in the County registered as Democrats.
Quick Links:
Go to the Corresponding Template section for this industry.
Go to the Corresponding Questionnaire section for this industry.