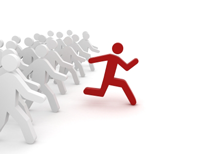 The total housing inventory of residential & commercial property is about 620k homes in the target market of Cuyahoga County, Ohio. This includes single family homes, 2 unit, 3 unit and 4 unit properties and also properties that have more than 5 units that typically constitute the commercial end of the property spectrum. Thus abut three quarters or a little more than 75% of the entire housing stock of Cuyahoga Count is in 1 to 4 unit units and the remaining almost 25% of the stock is in commercial units.
There are roughly 200 electrical contractors in Cuyahoga County, Ohio where Lights On Electrical is located. Almost 74% of these electrical contractor establishments have less than 9 employee and 54% of them between 1 to 4 employees. Thus this indicates that there is clearly a healthy amount of competition in the electrical contracting business in the target market. The nature of the contracting business is that it tends to be either feast of famine and that means when business is good, there often is too much business and smaller contractors are not able to handle all the work and likewise when business slows down, the pinch if felt by all - the electrical contracting business is very sensitive to the larger business cycle.
When we divide up the 620k units of homes by 200 electrical contractors we come with a number of a little over 3 units per electrical contracting establishment. What this means for Andy and Jose is that they will most certainly be engaging in sub-contracting relationships with larger electrical contractors to be able to take on the extra work that comes their way. The fact that the firm is bonded and both Andy and Jose have master electrician licenses will make it much easier for them to be able to continuefinding a steady steam of work.
Quick Links:
Go to the Corresponding Questionnaire section for this industry.