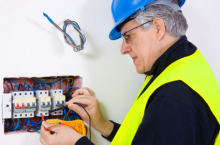 Lights On Electrical will provide installation and maintenance of electrical power, communications, lighting, and control system to residential and small commercial dwellings. The work done by Lights On Electrical will power the lights, appliances, and equipment that make people's lives and jobs easier and more comfortable.
The maintenance of equipment and systems involves identifying problems and repairing broken equipment, fixing or replacing parts, light fixtures, control systems, motors, and other types of electrical equipment.
Both Andy and Jose will be working mostly on residences like apartments and houses and doing occational work ono commercial buildings. Some of their work may also include some installation work, which may involve water heaters, commercial security systems and electronic key systems. Typically their work will involve:
Read blueprints or technical diagrams
Install and maintain wiring, control, and lighting systems
Inspect electrical components, such as transformers and circuit breakers
Identify electrical problems with a variety of testing devices
Repair or replace wiring, equipment, or fixtures using hand tools and power tools
Follow state and local building regulations based on the National Electric Code
Direct and train workers to install, maintain, or repair electrical wiring or equipment
Quick Links:
Go to the Corresponding Questionnaire section for this industry.