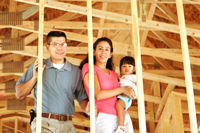 When trying to understand the distribution of the housing stock for Cuyahoga County based on the year it was built, we break the stock down into the following categories:
Built 1939 or earlier
Built 1940 to 1949
Built 1950 to 1959
Built 1960 to 1969
Built 1970 to 1979
Built 1980 to 1989
Built 1990 to 1999
Built 2000 to 2004
Built 2005 or later
When looking into the age the housing stock was built for both Cuyahoga County and the State of Ohio, we find that on balance, the housing stock in the target market of Cuyahoga County is older than the stock for the State. For example looking at the first category of housing stock that was built before 1939 we find that almost 30.5% of the total housing stock for Cuyahoga County falls in this category compared with only 21.1% for the entire State of Ohio.
When we combine the first three categories to compare the housing stock built before 1959, we find that a total of 61.5% of the total housing stock of Cuyahoga County was built before 1959 as compared to 42.4% for the State of Ohio. This represents a glaring difference of almost 20% conforming once again that the housing stock for the County is much older than the housing stock on average for the State.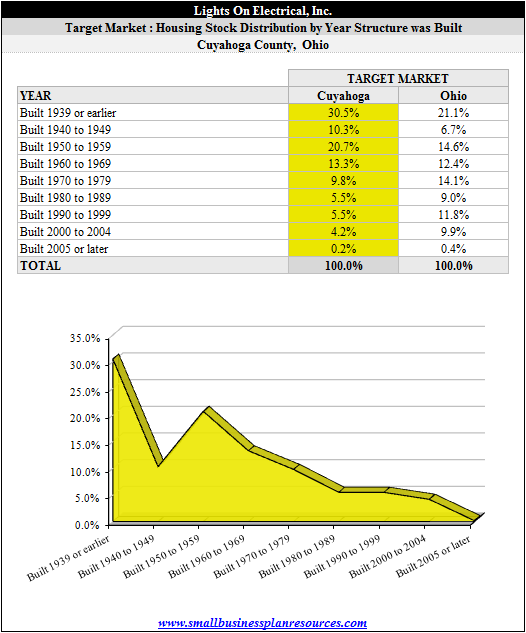 The implications this has for Andy and Jose of Lights On Electrical are of course fairly significant. Electrical contractors have 2 main lines of businesses that deal with either electrical work in residential and commercial establishments during constructions or the ongoing electrical maintenance work for older homes. As homes and apartments age, the wiring and electrical apparatus starts wearing out and many times is no longer with the most recent municipal electrical codes. This presents the Andy and Jose with plenty of opportunity for smaller quick hit maintenance and upkeep type of work that will keep them busy.
Also as homes continue to age, after some time they have to be replaced with newer constructions and this of course can mean very lucrative contracts for electrical contractors like Lights On Electrical.
Quick Links:
Go to the Corresponding Template section for this industry.
Go to the Corresponding Questionnaire section for this industry.