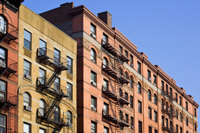 The housing stock distribution analysis for Cuyahoga County shows that when we combine the first two categories we find that all 1-unit homes (both attached and detached) are 64.5% of the total housing stock. For the State of Ohio this number is 73.1% representing a significant divergence. What this tells us is that there are many more multiple unit homes in the housing stock of Cuyahoga County than there are in the State of Ohio. Multiple unit homes tend to require more maintenance and upkeep and present better opportunities for electrical contracting work for Andy and Jose of Lights On Electrical.
Similar when we look at 2-unit homes, we find that there are 58,371 such homes that are a total of 9.4% of the total housing stock for Cuyahoga County compared with only 226,510 2-unit homes for the entire State of Ohio representing only 4.4% of the total housing stock.
In like fashion when we look at housing units of 20 or more units (apartments) we find that the State of Ohio lags behind with only 5.2% of its total housing stock falling in this category whereas for the County of Cuyahoga, that number is 12.6% of the total housing stock. Indeed the 78.064 total 20 plus unit homes in Cuyahoga County actually represent almost a third of the all such units in the entire State of Ohio. Large housing units like this are typically in the form of apartments and these tend to be part of an urban landscape - it is not surprising to see more multiple housing units structures in Cuyahoga County since it includes the greater Cleveland metropolitan area. Apartments and buildings represent an excellent market for seasoned residential and commercial master electricians like Andy and Jose.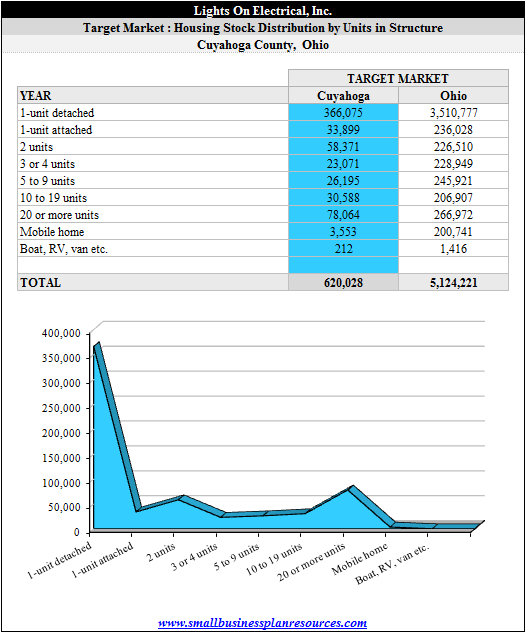 Quick Links:
Go to the Corresponding Template section for this industry.
Go to the Corresponding Questionnaire section for this industry.