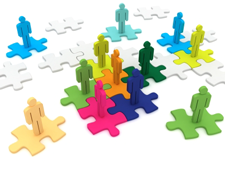 We recognize that building strategic alliances will be critical to their success in the electrical contractor business. One off the major reasons for failure in this business is Inexperienced management. Most smaller electrical contractors are not good at managing their people and relationships. One of the most common mistakes made by inexperienced managers is that they do not create alliances and sub-contract with others electricians and firms when the job is too big for them to handle. Building alliances is helpful not just in being able to complete the job successfully and keeping clients happy, but it is also very important when certain jobs require a degree of specialization that a small electrical contracting firm may simply not possess.
In order to build alliances Andy and Joe will:
Continue being members of the local better business bureau where they meet other business owners and are able to give and get leads.
Join local business networking groups to meet up with business folks from different professions that help each other grow by referring business to each other.
Forge deep relationships with local realtors and mortgage brokers to be able to partner with them and offer services to each other clients.
Take part in community based endeavors like the local Habitat for Humanity where they will be able to contribute their time and effort for a good cause and also get the chance to network with others professionals.
Continue to partner with larger firms and be ready to assist on working as sub-contractors to them on small jobs in order to build confidence and secure their trust.
Quick Links:
Go to the Corresponding Questionnaire section for this industry.